Health is our most valuable asset and we should guard it well. Even when building a house. To this end, there are highly effective, inexpensive and easy to implement ways for new constructions as well as for existing buildings. The Radon Protect system protects our health from the widely underestimated health risks of radon.
Radon is a radioactive noble gas which is produced in deep rock layers. It continuously comes to the earth´s surface. Depending on the quality and state of repair of the building radon can penetrate into the house through joints and cracks of the base plate, of the masonry or leaky pipes. High levels of radon in indoor air increase the risk of lung cancer enormously.
The RadonProtect Foil is a certified protective foil against radioactive Radongas as well as a certified vapor barrier. For a new construction, the Radon Protect System can be installed just under the base plate and ensures that radon cannot penetrate the base plate. For remediation and refurbishment of existing buildings, the film system can be laid on the base plate under the screed and welded gas-tight by hot air. The Radon Protect Foil is also a vapor barrier. For more detailed information please learn from the data sheet (download).
The RadonProtect Foil system is used in sandwich construction with the protective membrane Wikaflor (200g / m²). This serves as protection from physical damage.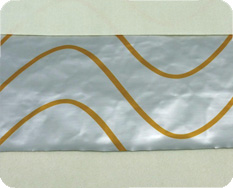 Delivery unit: The price for one roll of Radon Protect Foil (50m²) includes one roll of Wikaflor protective membrane (100 m²).
---
Item number: RP-5089
Aluminium/PE, roll 50 m², 50m x 1m
7,50 € / m²  incl. 19% VAT
---